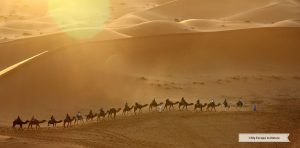 Do you want to see the Best part of Morocco?
Do you want to experience camel ride in Sahara Desert?
Do you want to camp 1 night in Sahara Desert under the star?
Do you want to see 2 imperial cities of Morocco- Marakech and Fes?
ITINERARY
Day 1: ( Saturday)
Arrival to Marrakech
Accommodation: Riad Imilchil
http://www.riadimilchil.com/RIAD%20IMILCHIL_archivos/Page1253.htm
Day 2: ( Sunday) City tour of Marrakech
Half day city tour of Marrakech
Accommodation: Riad Imilchil
http://www.riadimilchil.com/RIAD%20IMILCHIL_archivos/Page1253.htm
Day 3 (Monday) Marrakech – Tizi N'tichka Pass – Telouet – Ait Benhaddou Kasbah – Ouarzazate
Today, we departure to Telouet over the mountains of high Atlas passing through the Tizi N'tichka pass (2260 m in altitude), visit the Kasbah of Pasha Glaoui in telouet and stop for lunch in a local restaurant. In the Afternoon we will drive to Ait Ben Haddou along the Ounila valley with its Berber villages. You will visit the Kasbah of Ait Benhaddou then continue to Ouarzazate. Dinner and overnight at the hotel in Ouarzazate.
Accommodation: Riad bouchedor in Ouarzazate
http://www.riadbouchedor.com/hotel_morocco/index.php
Day 4: (28 November,Tuesday) Ouarzazate – Skoura – Kelaa M'gouna – Valley of Roses – Dades Gorges – Boumalne – Tineghir – Todra Gorges.
This morning after breakfast in the hotel, Leaving Ouarzazate towards Skoura where we will visit the Kasbah of Amredil, a beautiful Kasbah situated in the palm groves "Route of one thousand Kasbahs". Later on, the journey continues through the Valley of Roses then cross the off-road with the possibility to visit nomad family living in caves. You visit the dades gorges and see the rock formations. After that heading to Boulmane du Dades and have a break for lunch. In the afternoon we continue to Tineghir then to Todra Gorges to enjoy its marvelous views of Canyons. Dinner and overnight in Kasbah hotel.
Accommodation: Darayour
http://www.darayour.com/en/index.html
Day 5: (Wednesday)Todra Gorges – Tinejdad – Touroug town – Erfoud – Erg Chebbi (Merzouga).
This morning, you will walk around the Palm Plantations and enjoy the panoramic views of Todra River. Later on, we drive toward Tinjedad for a lunch meal on a local restaurant. Later you will pass by several villages such us Touroug (Berber village) and El-Jarf before reaching Erfoud. You will visit a local fossil craft workshop. After that you will continue to the captivating dunes of Erg Chebbi, these dunes are called also Merzouga Dunes. Arrive to the hotel and get ready for a camel trek for an hour and half to enjoy the sunset. While on the back of your dromedary, you will continue to the camp or an overnight in traditional nomad tent. Dinner and spend the night in a bivouac in the middle of the dunes.
Accommodation: in Tent in Sahara Desert
Day 6: (Thurday) Merzouga – Hassi labied – Khamlia – Nomad family – fossil Site – Tour of the dunes
Wake up early morning to enjoy the sunrise on the top of the dune in the Sahara Desert then have your breakfast. After these beautiful moments, you will ride your camel back to the hotel where you can shower. You will have a tour of the dunes on 4×4 allowing you to visit the black volcanic rocks of fossils, visit a nomad family living in tent, visit to khamlia village and entertainment of their spiritual music of Gnawa, and visit the lake Dayte Sarji that forms in springtime which attract pink flamingos and wildlife. Then you will have a break for lunch in Merzouga or Hassi Labied. After lunch you will see the canal irrigation system and have a walk on the oasis located on the foot of the dunes. Continue to your hotel for shower and relax. Dinner and Overnight in an Auberge.
Accomodation: http://ksar-merzouga.com/en/
Day 7 ( Friday) Merzouga – Erfoud – Errachidia – Midelt – Azrou – Ifrane – Fes
Today you will travel to Rissani and investigate the local market (Souks). later on ,you will depart to Errachidia via Erfoud, Aoufous and the valley of Ziz then stopping for a panoramic view of the oasis of Aoufous in the Tafilalte region. Continuation to Midelt across the pass of Tizi N'talghamt and have lunch break. After lunch you will be driven to Fes (the medieval city) via the Cedar forest near Azrou and the mountain of the middle Atlas with the possibility to see the Barbary apes (monkies). You may have a stop in Ifrane (the Switzerland of Morocco) before arriving to Fes.
Accommodation : Riad Passiflora  http://www.riadpassiflora.com/
Day 8 : ( Saturday) Fes
Explore  Medina of Fes on your own or in a group
Accommodation : Riad Passiflora  http://www.riadpassiflora.com/
Day 9 : (Sunday) Fes
Departure to Airport
MORE DETAILS
Email : info@myescapetonature.com
Text on Whatsapp: +44 77 350 56586
Price for the trip is £795 
 WHAT IS INCLUDED
Airport transfers in Morocco
Accomodation ( based on 2 people share a room with twin bed)
Breakfast and Dinner daily included
Half Day city tour of Marrakech
Air conditioned Van at disposale, a knowledgeable English speaking driver,  Fuel, Local Taxes,
Local guide in Ait Ben Haddou & Todra Gorge
Private Tents/ 2 people in a tent
Flexible and customised stops
Local Taxes
WHAT IS NOT INCLUDED
International flights see recomended flight details
Lunches & drinks
Personal expenses
Travel insurance (obligatory)
Tips for local guides & driver