Blue Cruise from Antalya/Turkey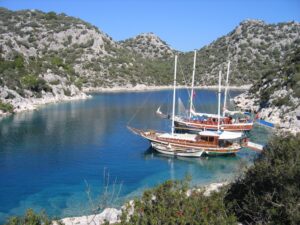 FOR DETAILS Text on Whatsapp: +44 77 350 56586
Duration: 

7 Days / 7 Nights

Season Start:

May 2021

Season End:

November 2021

Start Point:

 Antalya

End Point:

 Antalya
Transfer to your gulet in the harbour of Antalya. This whole region, bathing in sunshine for 300 days in a year, is Turkey's principal holiday resort. Dinner and overnight in Antalya.
After breakfast, cruising to Kemer, where you'll have lunch and time to swim.
Stop in Ucadalar, with its few rare sea foxes. Further to Olympos, optional visit of the ancient city, hidden, overgrown and hardly touched.
Swim near the beautiful beach.
Dinner and overnight in the bay of Adrasan.
Sailing to Demre, optional visit of the ruins of Myra (Lycian rock tombs & ancient theatre) and the Saint Nicholas Church where the real Santa Claus was a bishop in the 4th century.
Afterwards there is plenty of time for swimming and optional water sports in the quiet bay of Gokkaya.
Dinner and overnight here.
Visit of Kekova, the famous Sunken City with its Lycian-Roman buildings half under water.
Simena, a beautiful little island with a Byzantine-Ottoman castle on top.
Local ladies sell brightly colored scarves here.
Cruising to Ucagiz for dinner and overnight.
In the early morning sailing to Kas, one of the most picturesque fishing villages in Lycian Turkey.
Of ancient Antiphellos, as Kas was once known, only Lycian rock tombs & sarcophagi and the Roman theatre are left.
But the charm of the town remains! Wander around, shop and relax under the shade of a palm tree.
Overnight in a quiet bay near Kekova.
Cruising to Porto Ceneviz or the bay of Sazak.
At both places the sheer cliffs drop into the sea & the bays are completely deserted.
Dinner and overnight.
Sailing to Phaselis, optional visit of the well preserved ancient city.
The 3 harbours here were once a major commercial center.
The ruins of aqua educts, baths, a theatre, Hadrian's Gate and the Acropolis reveal the city's historical importance.
Cruising back to Antalya where dinner is served. Optional visit of the city.
Overnight in the harbour.
After breakfast, 09:00 it is time to say farewell to your crew and gulet.
PLACES YOU WILL VISIT
Antalya, Kemer, Ucadalar, Olympos, Adrasan, Demre, Myra, St.Nicholas Church, Gokkaya Bay, Sunken City of Kekova, Simena, Ucagiz, Kas, Antiphellos, Porto Ceneviz, Phaselis
---
INCLUDED IN THE PRICE
* Transfer from your hotel in Antalya to the boat.
* All meals (Breakfast / Lunch / Afternoon Tea, Coffee, Biscuits / Dinner), fuel, harbour fees, service.
* Standard yacht equipment, board games, snorkels & masks, fishing lines.
* Passengers may bring snacks, such as fruit, nuts, muesli, yoghurt, chocolate. (Not sold on board)
---
NOT INCLUDED IN THE PRICE
* All drinks, also water are sold on board at reasonable prices.
* Please do not bring your own drinks on board.
* Please bring your own towels.
* Archaeological sites and national parks entrance fees.
* Crew tip of 5% is also not included in price.
---
NOTES:
In case of poor weather and/or sea conditions, this program is subject to change without notice.
WHAT IS A TURKISH GULET?
A gulet is an all wooden handcrafted motor sailing yacht equipped with 1 or 2 masts, built for cruising the Mediterranean Coast. GULETS were originally built and used by fishermen and sponge divers to transport their catch. Today they have been luxuriously re-designed especially for yachting holidays.
The classic gulet has a rounded aft, low-to-the-water profile and roomy hull. However, these days, various designs have emerged, all of which come under the collective description of the wooden gulet. The design of the original gulet with rounded aft limits the number of cabins which can be built in it. Therefore the newer 'ayna kic' (flat-backed) style of gulet, is becoming increasingly popular as a charter vessel.
Today, Gulets contain large fresh water tanks, a fuel tank and a waste tank. They have been added to increase the comfort on the boats. But with this addition, the weight of the gulet has increased, and therefore become more suitable for cruising than for sailing.
MORE DETAILS
Email : info@myescapetonature.com
Text on Whatsapp: +44 77 350 56586 or link https://wa.me/447735056586
Facebook Page: https://www.facebook.com/myescapetonature/
Instagram: https://www.instagram.com/myescapetonature/
Tour reviews: https://www.facebook.com/pg/myescapetonature/reviews/