The Aurora Borealis or the Northern Lights is one of the spectacular phenomena that fascinates many minds. A collision between gas and particles of sunlight entering the earth's atmosphere is undoubtedly both alluring and a bizarre occurrence on the earth. The various shades of emerald dancing with bold streaks of green stretches clear across the whole sky will forever etch into your memory.  However, the beauty of it can only be seen around the magnetic poles on the extreme northern and southern hemispheres.
One of the most astounding track records for aurora sightings is in Abisko, Sweden. Home to Abisko National Park and the "Blue Hole" – a hole in the sky that is without clouds, appointed by NASA to be the best place to view the northern lights. Being part of the Arctic Circle, Abisko is a village situated in the northern region of Sweden. Even when the weather isn't the most optimal for aurora sightings, Aurora Sky Station in Abisko proves to have good track records of 83% in the evenings for clear and pure aurora sighting, yielding extraordinary numbers of clear nights in comparison to many other Arctic places. The hidden tuck away gem nestled in the mountains of Nuolja frees Abisko from light pollution present an ideal place to capture the beauty of northern lights with the stunning mountainous landscape as your backdrop. Below the village of Abisko is the 70 km long Lake Torneträsk giving you a magnificent view beneath. On top of that, is the most recognisable sighting of Lapporten, a U-shaped valley visible from Abisko making your trip more pronounce.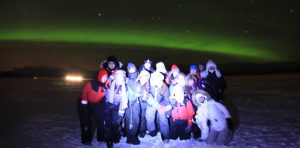 A perfect picture of Abisko encompassed by Arctic mountain overlooking Lake Torneträsk surrounded by the northern lights above, what more can you ask for? It is utterly and sheer ultimate northern light experience that is unforgettable.
More details about tours to see Northern Lights please check the website below
Follow me on instagram