*The original of this article is on Zeynep's own blog, Counting 50! https://dtzeynepdogan.wordpress.com/2019/03/19/i-saw-the-northern-lights/
It was never in my bucket list.
Well, to be honest I don't have a bucket list at all. But I rate places that I've visited or things I've done whether I'd be happy to share it with my loved ones, would I want them to experience it and would I like to do it again with them. This Northern Lights in Abisko trip ticked all the boxes.  It certainly did.
You might have seen many pictures, photos and documentaries about them but being there gives another perspective. It is one of those things, better experienced in first hand rather than looking at a video.
I am not going to tell you about the facts around the Northern Lights, I am sure Google has a vast resource for this. For a basic tourist, there are apps, websites that would let you know real-time activity level from the weather stations in the region. When the activity level is at 2-3, the lights are there but only with the help of a professional SLR camera the green colors are visible, hence you look at the photos.
So how on earth we have seen them not only one night but two nights, well let me tell you about it.
First, you need to have the weather on your side. If it is a cloudy night you won't be able to see anything. The best view is on a clear sky where you see stars as well as bright moon. During our stay in Abisko, it was highly disappointing on the 1st night and on the 3rd night it could have been a real worry if we hadn't seen them on previous night. Yes, we stayed 4 nights in a hostel in Abisko, Sweden and we were so lucky with the weather and the lights were fantastic two of those four nights.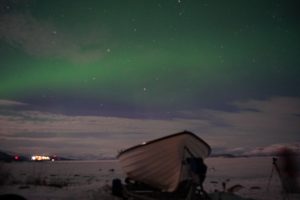 These photos were taken in the very beginning of the night, lights were not very strong. Throughout the night we learned and trained our eyes how to distinguish the activity from a thin cloud but the colors were not bright enough, we kept looking from the camera on that night.
On the second night (3rd night of our stay) the lights were much stronger; they were around level 4 or maybe higher on the activity ladder and this time we were able to enjoy the lights and did not need to look at the camera. Mainly they were bright green color, but we also saw a bit of pink underneath the greens which means those were much closer to earth. These were taken on the second night. Once the show starts it takes around 2 hours to stop but during the night, they could come up again.
We stayed in Abisko in Sweden. It is a small town next to the Torneträsk Lake and due to the mountains around it the weather is much drier, and it has more clear nights than next residential area. There are a few hostels, guesthouses and a couple of hotels in the area. During our stay we kept nights for only Northern Lights, at some point we literally chased them in the woods, over the lake, up the hill. During the days we had the options to try all winter related activities, ice fishing, ice climbing, dog sledding, snowmobile where you pay extra fees for each. Hiking in the nature was free and with the scenery around the lake it was fantastic. We even walked over the frozen lake, which was a quite experience. I used a chain type of accessory over my boots to be able to walk over the ice. It was a hard work to put on before you step out and take off when you want to step inside but it worth. I was so happy to walk around with no fear of slippery icy conditions.
During our stay we took a day trip Narvik, Norway. With a view of beautiful river and mountains, it is one of those best scenic routes in the region.  On our way back to airport on the last day we also stopped by the IceHotel in Kiruna. It is an interesting idea turned into a tourist spot over the years. The one that we visited was Icehotel number 29, apparently, they have been rebuilding the hotel for the last 29 years from scratch.
They identify huge ice cubes in the adjacent river during spring, carry them with cranes top the workshop and carve them into arty objects and show them during winter and in summer they all melt and go back to the river.
Apart from the weather there is a very important factor in the success of this trip, the tour guide. Our tour was a small group of 15 people and our tour guide, Naim, has been to this same place with many groups over the last 5 years. We were the 14th group and only one group didn't see the lights so far. This is a big success rate I'd like to think especially in a real natural event. Naim, did his best for us to enjoy the whole process, leading us to the viewing spots throughout the night. At times when it was too cold or late, he would send us back to hostel to get some warm but would call us whenever he spotted any activity. His enthusiasm and ambition to see the lights were unbelievable.
In Abisko the rule of thumb is "no promise on catching the Northern Lights or arctic char, the fish lives in the lake." It is all in natures hand. You could also ask to the Northern Light Fairy for some help though. I'd like to think that my short discussions with the snowmen around the lake on the 2nd and 4th days, did help us as well.
What I also realize about this Northern Lights trip is that it has a strong level of attraction on social media as well.  The minute I shared my whereabouts and my photos the entire friends on FB and Instagram showed an interest.
So below is the link to the tour  that we were in for your information, and I strongly recommend: My Escape to Nature.com
Written By Zeynep Dogan
Next Northern Lights Tour
Northern Lights&Arctic Adventure/11-15 March 2020